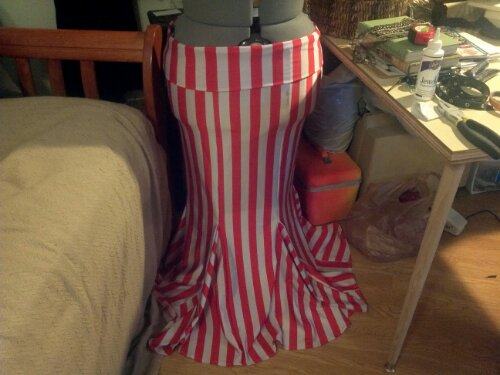 We have the monthly show at Satchel's the Tuesday after Christmas, and we're going to have some fun with it.  We'll pick Christmas-y music for one set (at least), and I'm working on festive outfits.  For my own part, I'm going to be a peppermint candy cane, with a skirt and top in red and white stripes!  I made the skirt tonight (start to finish, about 2 hours), and have a few photos to share.  This style of skirt is super easy – 6 rectangles, 6 quarter circles, and one more rectangle for the wide waistband (mine is a foldover style, I like to be able to adjust them for a higher or lower waist depending on how I feel on a given day).
You should use stretch fabric – 4 way is ideal, but 2 way is fine as long as it stretches horizontally to give you room for your tush.  The rectangles should measure from where you want the bottom of the waistband to sit, to the floor, plus an inch for seam allowances.  Their width should be approximatey your hip measurement (take a little off if you want the skirt more snug) divided by 6, plus an inch for seam allowances.  The radius of the quarter circles should be the measurement from your knee to the floor.  The waistband rectangle should be twice as wide as you want the band to be, plus an inch for seam allowances, and as long as your hip measurement, plus an inch for seam allowances.
Sew one quarter circle to each rectangle to get 6 bizarre, sort of L shaped pieces.  Then sew those together such that there is a quarter circle in between each long rectangle.  Then sew the short ends of the waistband together, and fold it in half lengthwise (right side out) and pin the open edges together so that they don't shift.  Pin the waistband around the top edge of the skirt and sew it down (a zig zag stitch is probably good for this part, since it will stretch more than the other seams will).  From there, trim up your seam allowances if you need to, toss a half inch hem on the bottom, and you're good to go!