Hi everyone! Â Heather here, to tell you about some workshops I recently attended.
This past weekend two local dancers, Leela of New York and Najmah Nour, co-sponsored a weekend with 2 workshops overviewing several Turkish folks dances (mostly line dances), as well as 2 workshops exploring the Turkish Oriental style through choreographies.
The folk dance workshops were taught by a wonderful local lady, Margaret Tolbert.  One look at her website and you will know that she is definitely multi-talented.  In addition to being a wealth of knowledge on folk dances from many regions, she is also an artist and an environmental activist.  She recently released a book including her own art and writing, as well as that of other contributers, about Florida's spring systems, their features, and the urgent need for their preservation.  The book is AQUIFERious and you can learn about the book project, and find out where to purchase your own copy, here. (It's available at several local venues, as well as on Amazon.)
Each day had one workshop focused on folk dances and one focused on an oriental choreography. Â This was nice to keep the brain from being overwhelmed with two much information on one subject. Â I loved both classes!
The first day's folk dance was all line dances, and they were so much fun! Â Unlike the dance workshops I'm used to – this was not stressful. Â That was a nice change of pace, and it was great dancing together with everyone. Â This cooperative aspect is something I really like about tribal group dance, that is missing from a lot of other dance styles. Â I think I would like to learn more line dances and begin incorporating them into show and hafla activities for audience and member participation. Â (And to make sure I don't forget what I have learned!)
Some of the dances we learned over the 2 folk dance workshops were:
Kemane from Konya
Militsa from the Black Sea area
Delilo from Elazig
Berde from Erzurum (one of my favorites!)
Kechiko from Elazig (another favorite)
Madimak
Sepastia Bar
Erzurum Bar
The first day's oriental choreography was also a blast. Â Some of the moves were pretty tricky, but I really *loved* the music.
The second day's choreography was more in my usual style and aesthetic, (and I really liked that music too) but I luuuurve the first day's music. Â (Hadi Hadi, which is a pop song about a pre-destined love that is just meant to be. Â Everyone likes a good love song.)
Day 1 Group Photo!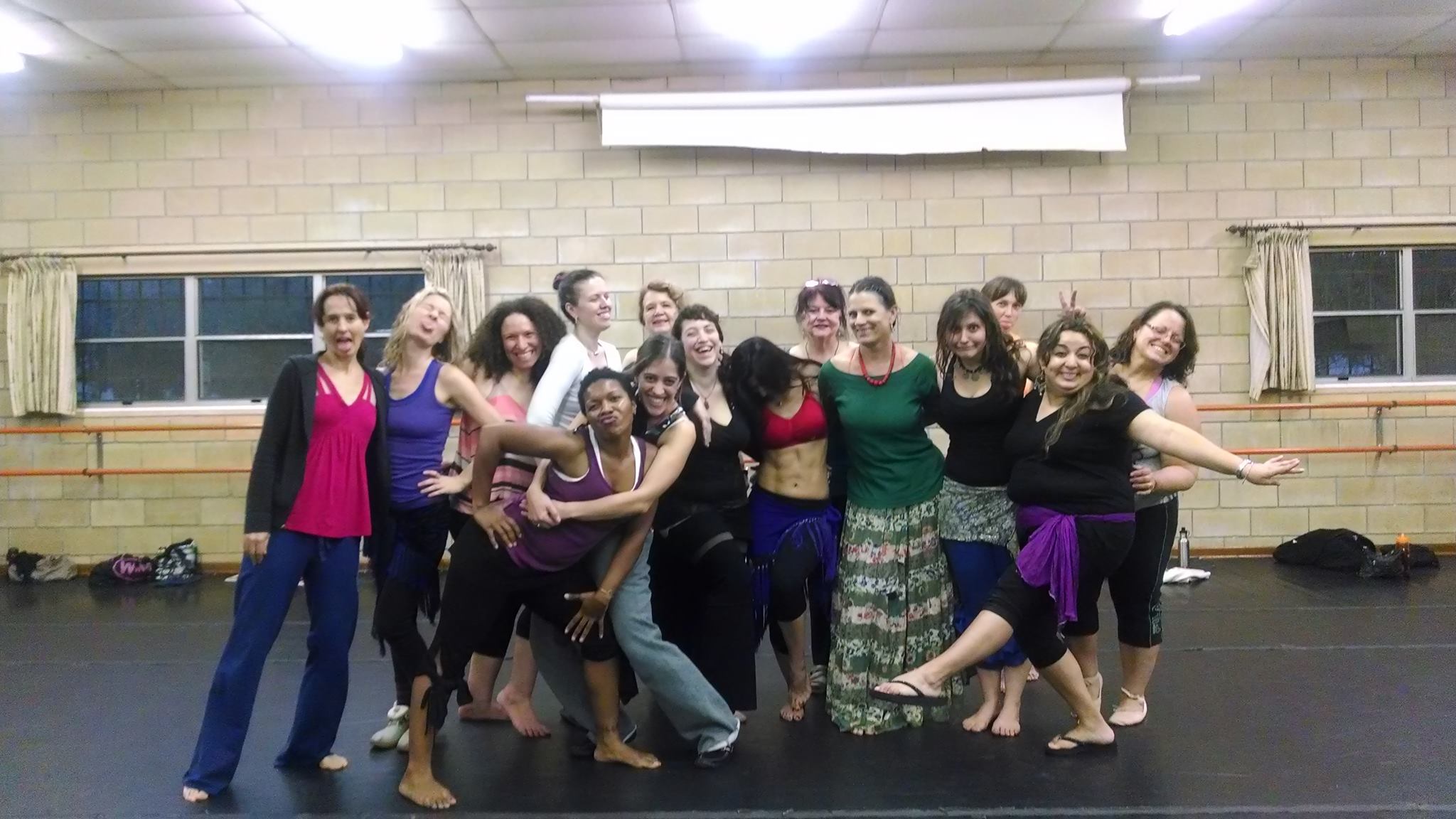 I really enjoyed this intensive, Turkish culture and dance are major influences on American belly dance, and so I think it's an important part of the picture that we should have a bit of familiarity with.