Last night we had our monthly student showcase, Satchel's Shakedown!, and we had a great time as usual.  There were performances by a group of students from Inna's American Tribal Style class (one of which was accompanied by didgeridoo!), as well as students from the Shambling Shimmies Improvised Tribal Style class, a wonderful duet from a couple of students, and solos from the instructors.  There were even some excellent audience members that were kind enough to join us onstage and learn a couple moves during the audience participation part of the show!
Native or longtime residents of Gainesville already know that Satchel's Pizza is definitely something you must see – the venue is eclectically decorated, the pizza is delicious, and the employees are wonderful.  There's even a junk museum out back (Lightning Salvage), which houses the stage where the showcase takes place.  If you are new to town – definitely go check them out at www.SatchelsPizza.com
We were also honored to have a very nice person (Elise Giordano according to the photo credit) from the Alligator in attendance, and a photo from the show was featured in today's edition!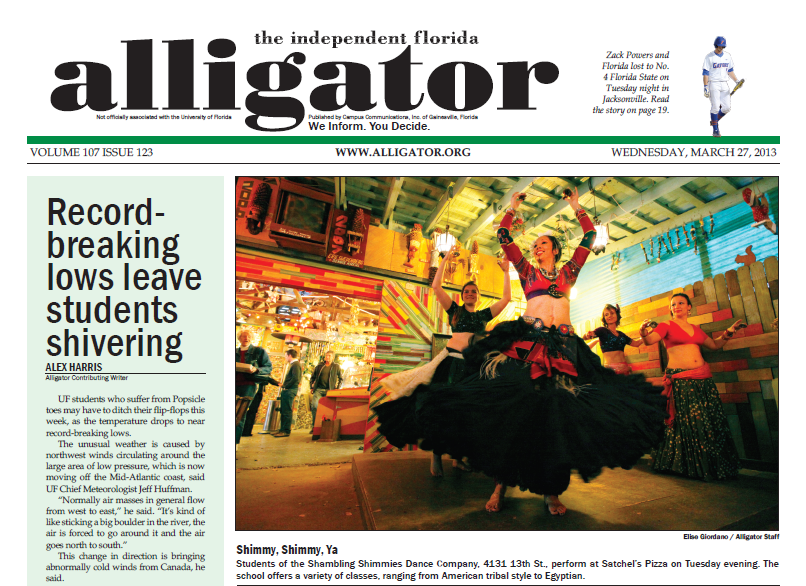 There was also a reporting student who interviewed a few of the dancers for a school assignment (whose name I have unfortunately forgotten because I did not write it down) – if you see this, email me using the contact link at the top of the page and I'll update the post with your name!  I definitely enjoyed speaking with her and am sure that she'll get an A+ on her assignment.
What a blast!  You really should have been there – but don't fret, you have another chance.  The monthly showcase takes place on the last Tuesday of every month, and you can get details on shows and other events on our calendar or on the events listing for our fan page on Facebook.  We hope to see you at Satchel's!